If you're in an entry- or mid-level position within your company, one of your professional goals may be to advance to management. If so, it's a good idea to focus on how you'll make that transition, as becoming a manager often involves more preparation than many people imagine.
To start, your previous work experience alone might not prepare you for a managerial role. If you've worked in one department throughout your career, you may not have enough of an overarching viewpoint to make leadership decisions. You might have to gain a little more experience before you're fully prepared.
In addition, you'll likely face competition. The general structure of a business requires more managers than standard staff, so you probably aren't the only person in your organization with eyes on the position. As such, you'll have to situate yourself as a stronger candidate than other applicants, which takes preparation and a willingness to learn.
Still, do not let this information discourage you. Pairing your experience with the right preparation, you can shape yourself into a prime candidate for management. Here's how:
1. Prepare months before you plan to transition
If you know you want to reach the managerial level, start preparing by gathering new professional experiences at least a year before you apply for your promotion. This should give you enough time to explore beyond your current position and sharpen your knowledge and skill set. This also serves as a chance to ask questions and make mistakes, so make the most of the time available.
Start pursuing your goal on projects outside of your current role. For example, if you've spent the bulk of your career as a data analyst, put yourself on an assignment that involves more finance, budgeting, or sales knowledge, and learn as you go. To give yourself an additional boost, work on projects that will impress the people who will consider you for a management-level position, whether they are human resources staff or even executives. For example, you could take on organizational work to position yourself as a project manager or database administrator. If you haven't yet worked on assignments that stand out in such a way, now is the time to do so.
Work on assignments that impress executive decision makers.
2. Learn the ins and outs of the role
As hinted above, being a manager means you must have an overarching understanding about overall business operations. It's not enough to be an expert in one department—you must understand how each part of a business works to support the whole. This means you will need to have a strong skill set in the basic aspects of marketing, finance, accounting, data analysis, budgeting, law, business strategy, and several other areas.
Luckily, you don't have to study these concepts on your own. The Washington State University Carson College of Business offers a comprehensive online Master of Business Administration program designed to help people achieve their advanced business goals. You can complete our curriculum in as few as 22–29 months (dependent on your prior business education) and continue working professionally while you move toward graduation. By accumulating work experience as you study, you have the opportunity to apply what you learn in the classroom almost immediately.
If you know you want to eventually surpass management and reach the executive level, The Carson College of Business also offers an online Executive MBA. We designed this program to help provide students with the knowledge that can help fast-track them to the C-suite, but please note that admittance requires seven-plus years of management, senior management, or executive business experience. If you do not have such qualifications, it may be a better fit for you to start with our standard online MBA.
3. Shift your perspective
One of the most difficult aspects of shifting to a management position is the change from focusing on a specific area to overseeing an entire project. If you work in sales, for example, you may not know much about budgeting, human resources, marketing, or research and development. What's more, you might not fully understand how these separate elements relate to each other and your new position. As an employee who hasn't yet reached management status, you are very much a specialist in your area.
As a manger, however, such understandings are vital. You'll need to progress from a specialist to a generalist—a leader with more of an overarching view of how the business operates. This is because as a manager, you'll need to make leadership decisions based on information from other departments. Your team's budget will come from finance and accounting; its information will come from research. It's important that you understand how different pieces of data interrelate with each other so you can make strong judgments and compromises.
You can prepare for the varied viewpoints that contribute to a management profession by enrolling in The Carson College's online MBA program. Here, you can study to gain a greater understanding of business concepts you might not have had access to in your career so far.
4. Grow comfortable relying on trustworthy information
Shifting your perspective to one befitting a manager involves more than transitioning from a specialist to a generalist. You must also learn to trust the direction of people more versed in other specialty areas of the business than yourself. As a manager, you will become less hands-on and must make decisions based on your knowledge and others' assessments. You may not have the knowledge to take such information into account, nor the time to research it. In these cases, you'll have to rely on experts in various aspects of the business.
For example, if you become a hotel manager at an international resort, you may need to rely on a marketer with in-depth knowledge of shopping preferences in other countries. Their information will help you price different goods and packages within your operation.
That is one essential truth of being a manager: You'll need to learn as much as you can about business operations while simultaneously relying on people with knowledge of specific areas to help you make decisions. Only by balancing such self-reliance with information gleaned from others can you perform successfully within this position.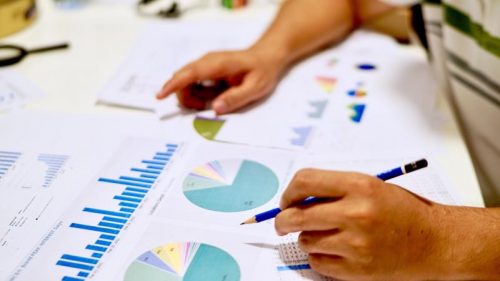 As a manager, most of your decisions will be based on information from other specialists.
5. Look at long-term strategy rather than short-term goals
Just as you must adopt a broad operational approach when you become a manager, so too must you begin looking at long-term objectives rather than short ones. As a manager, you no longer work to meet individual goals for the quarter; now, you help your team tackle long-term strategies.
For example, imagine you work with a team of software developers for an online retail store and begin noticing a shift in consumer payment preferences. As a manager, your next objective would be to make sure your store accepts these options to satisfy customers and keep purchase rates high as new payment types catch on and older ones disappear over time.
This idea is true in any department. A shift in health care law, for instance, means human resources managers must craft a message to the entire staff explaining what changes will occur, when new directives will be implemented, what actions employees must take, and what deadlines have changed.
6. Use your education to reach management and beyond
While it is possible to advance from standard employee to manager without an advanced degree, obtaining an MBA can greatly increase your chances for success. According to a CareerBuilder survey, which collected answers from over 2,300 HR and hiring managers, educational requirements for careers across the organizational spectrum are increasing. In fact, 33 percent of businesses said they look for candidates with master's degrees to fill positions that had been previously held by those with just a bachelor's—this result is up from 27 percent in 2016.
Studying at Washington State University's Carson College of Business can grant you the wide array of business knowledge necessary to succeed as an executive and can also give you the credentials necessary to satisfy employers. Enroll in our online MBA—or, if you have the experience, EMBA—program today.
Recommended Readings:
The rise of the blue-collar executive
Five fast-growing industries for executives
Sources:
http://press.careerbuilder.com/2017-03-16-41-Percent-of-Employers-Are-Hiring-College-Educated-Workers-for-Positions-That-Had-Been-Primarily-Held-by-Those-with-High-School-Degrees-Finds-CareerBuilder-Survey